"Om Sat Chid Ananda Parabhrama Purusothama Paramathma
Sri Bhagavthi Sametha Sri Bhagavatha Namaha "
"ஓம் சச்சிதானந்த பரப்பிரம்ம புருஷோத்தம பரமாத்மா
ஸ்ரீ பகவதி சமேத ஸ்ரீ பகவதே நமஹ"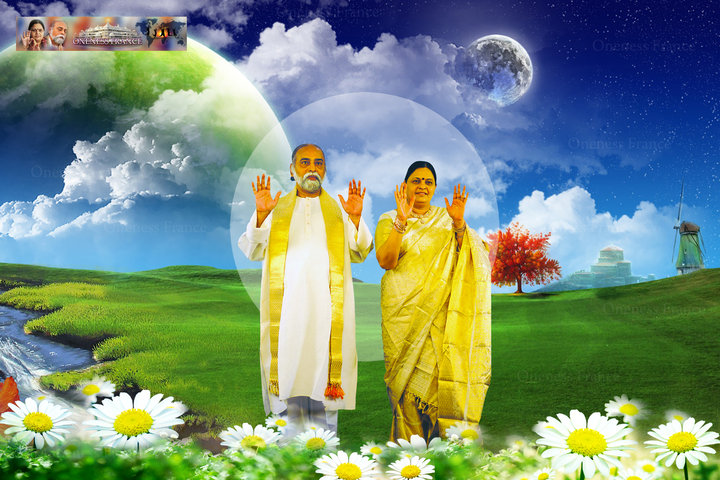 Special 21 Days 'Anugraha Puja'
21 pryers (Boons) to fullfil your lives
with
Health, Wealth, Love, Success and Happiness
[Via Live Online Broadcast & Telephone Conference]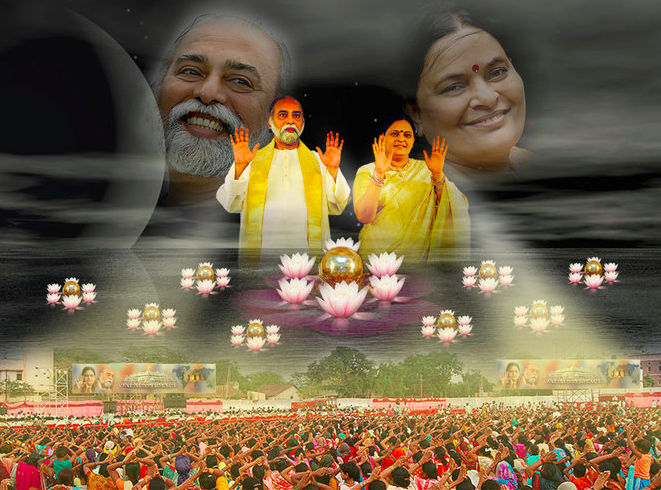 Date:
Starting from New Moon Day
Monday 12th of July 2010 till Saturday 01st of August 2010
Time: 10.00pm till 11.00pm
(UK Time)
11.00pm till 12.00pm (France Time), 05.00pm till 06.00pm (Canadian Time)
Organisers: Ramesh Balasubramaniam, Oneness Trainer with
Oneness France & Oneness London Community
Contact:
0033 623818062 / 0033 642666163
Telephone Conference Access:
Number - 001 641 715 3620

001 641 715 3620

begin_of_the_skype_highlighting

, Access Code - 186834
Live Online Broadcast Link:
We

are

Inviting You All

to join this

Great Lifetime Opportunity!
Join us online with many others.
Perform

this

Special Anugraha Puja

for

21 days

to

Your Divine
with

21 Sacred Items

chanting

Vedic Mantras,
in

Your Own Space

&

Comfort

-

Your Prayer Rooms.
Embrace

in

Divine Grace, Raise Your Consciousness Levels

and
Find Solutions

for

your Life Struggles, Peace

and

Happiness.
Looking forward for Your Presence, entrance is free of charge.
Join this Sacred Divine Process and Set Yourself Free from Your Sufferings!
Please forward this message to your friends and families.
-Oneness France & Oneness London Community-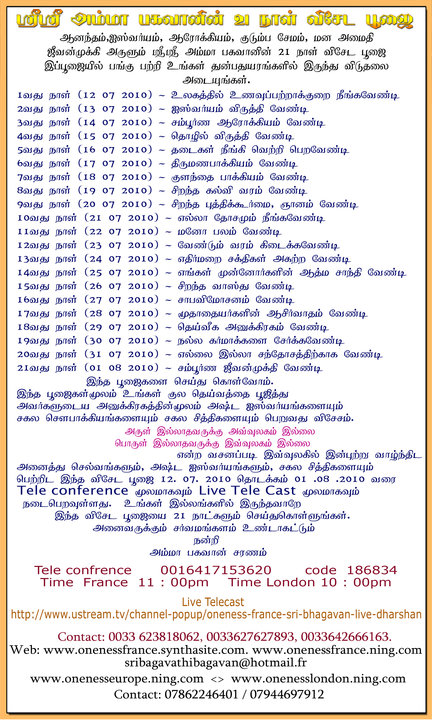 Day 1 - Prayers for Food.

(Sacred Item to perform puja - Chakarai Pongal)

Day 2 - For Wealth




Day 3 - For Health




Day 4 - For Progress at Work and Business




Day 5 - For Removing Obstacles in Our Lives and being Successful




Day 6 - For Marriage




Day 7 - For Children




Day 8 - For Studies




Day 9 - For Intelligence and Knowledge




Day 10 - To Remove All Dhoshas

Day 11 - For Mental Strength




Day 12 - To Get Boons (Varams)




Day 13 - For Removal of Negative Energies




Day 14 - For Liberation of Our Ancestors (Moksha)




Day 15 - To Set Right Energies in Your House (Vastu)




Day 16 - For Removal of Curses (Saaba Vimochanam)




Day 17 - For Our Ancestors Blessings




Day 18 - For Divine Guidance




Day 19 - For Accumulation of Good Karma (Satkarma)




Day 20 - For Happiness in Family
Day 21 - For Living, Awakening & Enlightenment (Jeevan Mukthi)
A Place to Experience the Beauty of Every Moment of Your Lives
Namasthe!
Here is a Path Breaking News. Sri AmmaBhagavan has given this New Manthra to the Devotees for Chanting to attain Enlightened State, while interacting with them.

The Manthra is Simple.

" நான் சத் சித் ஆனந்த பரப்பிரம்மம்"

OR

" I am Sat Chit Ananda Parabrammam"

This Mantra should be Chanted Continuously for 49 Minutes. Yes 49 Minutes, Not 49 Times.
Try Chanting it in the Early Morning, that is you should Start Chanting at around 5am and Complete the Chanting before Sunrise. You will Reach a very High State of Consciousness. In this State Your Unconscious Mind will Connect to the Divine and Your Problems will be Solved by the Divine. Chanting in the Early Morning will be ideal but if you can not do it in the Morning then you can do it Any Time. But not when you are very Hungry or Very Tired or Very Sleepy.
Chant this Manthra and Report Your EXPERIENCE.
Thank you very much.
SRI BHAGAVAN'S PLAN FOR 2012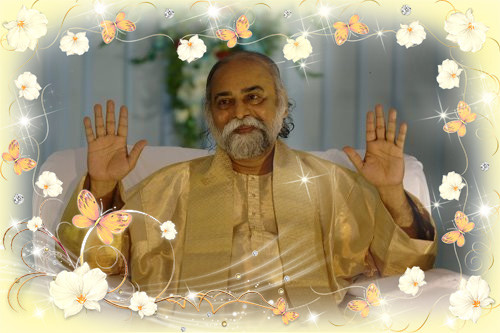 1. Dec. 3, 2009, Oneness Trainers were given the power to initiate those who completed the Oneness Experience Course as Oneness Blessing (Deeksha) Givers. Trainers were given freedom to set the course fee to make it affordable for everyone and to offer the course in their own way, from their own life experience. In 2010, many additional Oneness Trainers will be trained. Any Blessing Giver who completes Level 1 & Level 2 & obtains recommendations from 10 Trainers or 1 Trainer & 25 Blessing Givers may apply to the World Oneness Center to go to India to be trained as a Trainer.
2. In 2011, the Oneness Blessing (Deeksha) Givers will themselves be able to initiate new Blessing Givers.
3. In 2012, Blessing Givers will form groups in which they will give each other a very special Oneness Blessing (Deeksha) which they will instructed how to do in a very precise way. This will take them into a permanent state of Oneness (such as: Christ Consciousness, Buddha Consciousness, Krishna Consciousness, Islamic Consciousness, Oneness with humanity and nature, etc. each according to their personal connection to the Divine Presence).
4. After March 2014, Sri Amma & Sri Bhagavan will fade away from the scene & return to normal, simple, anonymous lives.



Naissance et Enfance de Sri Amma Bhagavan




Le phénomène de la Oneness Blessing




Qu'est-ce que Oneness Deeksha?












1 - Mooladhara

2 - Swadhishtana

3 - Maniputra

4 - Anahatha

5 - Vishuddhi

6 -

Ajnya

7 - Sahsrara

1 - மூலாதாரம்

2 - சுவாதிஷ்டானம்

3 - மணிபூரகம்

4 - அனாஹதம்

5 - விஷூத்தி

6 - ஆக்ஞா

7 - சகஸ்ராரம்
All copyright reserved © 2010 Oneness France